About
RePop is a vintage furniture and oddity show space that combines the overcrowded charm of an old-fashioned Parisian boutique with the promising clutter of a midwestern junk shop. The shop offers a wide range of merchandise (dolls' heads, antique chemical bottles, taxidermy, modernist and factory lighting, vintage signs, and more) and is also known for its selection of unique primitive storage items and exquisite mid-century modern furnishings in fabulous condition.
Most recently noted for accomplishing the interior design of the Nitehawk Cinema in Williamsburg, RePOP also features local artists.
Recycled.
Green.
Sustainable.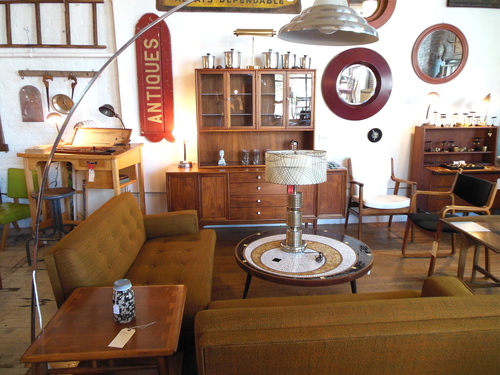 Our Location:
42 West St, Brooklyn, NY 11222, United States
+1 718-260-8032
Monday-Sunday 11-7pm
RePOP travels the United States to hand select items for our store. All items are available for rental for your next film project, photo shoot, or theatrical production. The shop itself is also available for rental. Rates vary depending on time frame of each individual project.
If you are interested in outfitting a home, bar, or office with one-of-a-kind sustainable, vintage items, we are available for small interior and commercial decorating projects. We also have sources to blend contemporary design with a refurbished or vintage aesthetic.
Best Furniture Stores in Brooklyn 2012 – Ask
Best Brooklyn Boutiques 2012 – Refinery29
Brownstoner 2012
Best Vintage Furniture Shop 2011 – Village Voice
NY Spaces – Nitehawk Cinema Design
Brooklyn Arts Council – Maggie Bard & Casey Spectacular
Best Vintage Furniture Shop 2009 – Time Out NY
Design Sponge 2008Best Thrift Shop 2007 – NY Magazine
Skop ikon
Delightful Europe – 10 Things To Do In NY